Undergrad Degrees In –

Study Abroad
A WORLD OF POSSIBILITIES IS WAITING FOR YOU
As an online student at Johnson & Wales University, you know that you can study anywhere, anytime. But what you may not know is that online students can take advantage of the same study-abroad opportunities as traditional campus students and learn from practically anywhere in the world.
Where Can JWU Take You?
Here are a few possible programs available for online students:
JWU Where Rugged Meets Responsible: Sustainable Tourism in Costa Rica
JWU Sustainability, Community Engagement & Leadership in Nepal
JWU Operations Management & Process Improvement in Ireland
JWU Sustainable Community Wellness and Nutrition in Latin America
---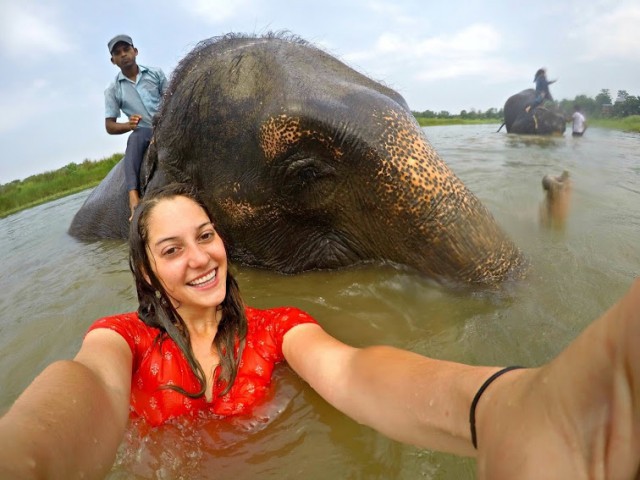 "This experience by far exceeded my expectations. Every day we went on outings to meet entrepreneurs, eat local food, check out festivals, hike through rural villages, and more. Every day was drastically different, unpredictable, exciting, and stimulating in its own unique way." — Deanna Sweeney '17 MBA
---
FAQ
Are study-abroad opportunities available at the undergraduate and graduate level?
Yes! Keep in mind that not all degree programs incorporate study abroad, however. It's best to speak directly to your online admissions advisor or JWU Study Abroad about what will work best for you.
How long are the study-abroad trips?
The university offers opportunities from one week to an entire term. You can search programs on the JWU Study Abroad site.
Are pre-departure information sessions available online?
Yes! Pre-departure meetings are held via Webex. Everyone meets in person for the first time on the first day of the program abroad.
Are scholarships available?
The university offers JWU Global Study Abroad Scholarships. The amount awarded is up to $2500 for study abroad in the fall, winter, spring, or summer. All JWU students with a completed FAFSA may be eligible. Apply today! Other outside scholarships may be available as well. Talk with your study abroad advisor for more information.
What is the Global Learning Distinction?
The Global Learning Distinction is earned upon completion of established benchmarks, and noted on your final JWU transcript. Learn more.