Rich always liked to cook. The son of missionary parents, Rich experienced the tastes and textures of traditional foods in the countries where his parents served – his mom as a teacher and his dad as a maintenance worker. As a young adult in college, Rich questioned whether a musical career would bring him joy in life. Inspired by his love of international cuisine, combined with his early interest in learning how to cook, Rich enrolled in the first cohort of Johnson & Wales College of Professional Studies online culinary studies degree program. Grateful for the partnership between Chipotle and Guild Education that paid his tuition, and the culinary education he received through JWU CPS, Rich has new dreams and the goal to give back to his community through his love of food.
Early Culinary Influences
My first culinary job was in Cameroon, Africa, while I was still in middle school. My mom and dad wanted me to 'do something,' so they found me a job in a mom-and-pop restaurant that served traditional Cameroonian food. Located at the junction of western and central Africa — bordered by multiple African countries — the cuisine has multiple cultural influences. Cameroon has no child labor laws, so the owners were able to hire me to wash dishes. After a couple of weeks, the owners asked if I would like to do the food prep. I said 'yes' and enjoyed learning various culinary techniques.
Musical Training
I didn't consider pursuing my interest in cooking as a career when I graduated high school in 2017. Instead, I went directly to college in Iowa to study vocal performance. I was learning loads of music theory, but not much about performing. After about two-and-a-half years, I left the program and moved to Florida to help my grandma until she passed. I was out of school for about a year, while waiting to be considered an 'in-state' student.
Finally enrolled in the Florida school, I liked learning the operatic techniques they were teaching me. But the atmosphere at the school was tense. The competition was fierce, and it wasn't a healthy competition. I didn't feel uplifted around my classmates or inspired by my teachers. I certainly wasn't finding a sense of community at the school, and no longer wanted to be in that environment.
Feeling overwhelmed by the constant pressure to perform, I left school. I questioned whether I wanted a musical career for life. I kept asking myself, 'will this bring me joy?'
When the country locked down during COVID-19, I became increasingly depressed. It was a very dark time for me. I stayed in my house, thinking about what I wanted in life. I didn't feel like I had many interests that I could pursue as a career. However, I had a yearning to make food.
A Culinary Dream Comes True
I began thinking about cooking – about how, when I was six years old, I really wanted to know how to prepare food. At six, I already knew how to steam vegetables, make omelets, macaroni and cheese, and homemade fettuccini alfredo.
Cooking is one of the only things that brings me happiness. After my grandma passed, I moved to North Carolina. I wanted to get into cooking again. I knew that Chipotle, in partnership with Guild Education, offers employees educational benefits. I applied for a job and was hired at Chipotle in Gastonia, North Carolina.
Looking through Chipotle's catalog of qualifying college credits and undergraduate degree programs, I saw that I could earn a culinary degree online through Johnson & Wales College of Professional Studies. I could take two classes a semester, while continuing to work full time. Chipotle, in partnership with Guild, would cover the entire tuition. The school supplies cookware, including pots and pans and professional kitchen knives, and provides equipment to record yourself while cooking for the assignments. I wanted to improve my performance at Chipotle and earn the degree, so I applied.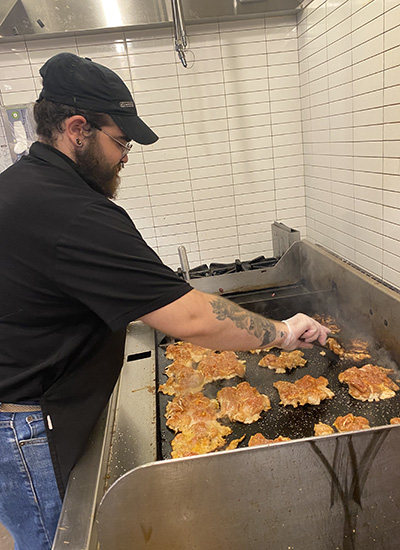 Balancing School, Work and Life
Keeping up with culinary classes while working full time wasn't easy for me. The program gives a very thorough professional training, which demanded a good deal of time. I often had multiple assignments – maybe three cooking assignments – in a week. Sometimes I would get behind and need to do two or three assignments all in the same day. Managing work and school, I learned to be more self-disciplined and understood how to better budget my time – a skill I use now at work.
Locating all the ingredients I needed for my class assignments was sometimes challenging. I don't live in a city, so, many of the ingredients weren't sold in stores near my home. I would look at the recipes and drive 30 or so minutes to Charlotte to shop at Whole Foods, or a mom-and-pop butcher shop.
I could have emailed my teachers to have them suggest substitutions — other students in the program did that and the teachers were always helpful. I chose to source the original ingredients, so the dishes I prepared would feel authentic.
Faculty Support
The support from the culinary faculty helped me meet the challenge of earning the degree online. Whenever I submitted my class assignments or emailed with questions, I received a response within a day. My experience in the culinary program was night and day compared to other schools I've attended; the JWU CPS faculty and staff were extremely helpful and obviously care about their students.
In the beginning, I found it difficult to watch the videos in which teachers recorded themselves critiquing my food preparation techniques. Watching myself on my own videos, I could see what I had done incorrectly. When they pointed out my mistakes, I would groan and say to myself, 'I know, I know.'
As I improved my techniques during the program, it became easier to watch critiques of my cooking.
Eventually, the feedback I received in the videos became one of the things I really liked—for almost every assignment I received at least a 10-to-15-minute video response. The critiques were very thorough; I felt that all my teachers really wanted to help prepare me to succeed in the culinary industry.
I'm especially grateful to my advisor, Tracie Souza. She emailed me regularly to check in and make sure I was doing well. Right from the beginning, she made sure everything was set in place. Her attention was very reassuring and made me feel I had someone advocating for me at the school.
How To Learn Cooking Online
People ask me what it was like to study cooking online. When I first thought about enrolling, I wondered about that, too. How would my culinary teachers evaluate my cooking without tasting the food I made? I was surprised at the many ways we used our senses to analyze my cooking techniques.
Sight
I filmed videos of myself preparing food for each assignment and took detailed photos of each dish I made. My teachers are all highly experienced culinary professionals. They could look at a dish I was preparing and know whether the food was perfectly cooked, or if I had seasoned the dishes well. They also critiqued the visual presentation – what you see on the plate influences how the diner enjoys the meal.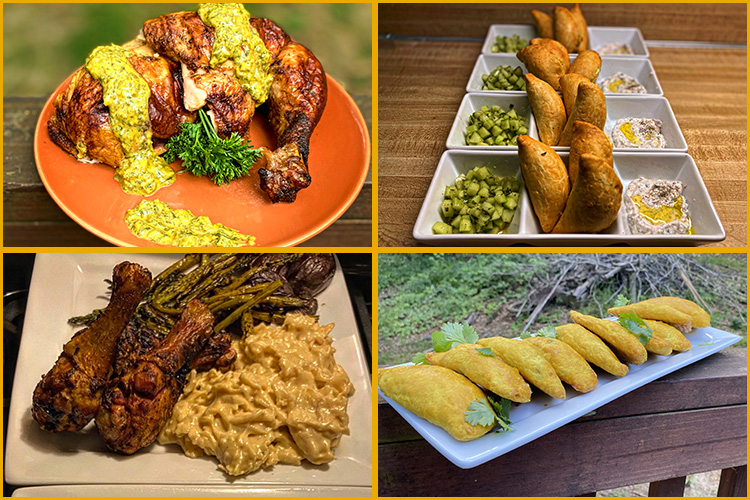 Sound
I was surprised at the amount of information my teachers got just from listening to sounds while foods were cooking. The teachers encouraged us to cook in a quiet environment, with no background noise – and to turn up the sound on our recording device. It reminds me of the ASMR videos on YouTube, which are intentionally quiet, while sounds made close to the microphone – for example, the repeated snapping in half of a Cheeto – heightens the senses and triggers sensations of tingling or goose bumps in the listener. In my situation, the teacher evaluating me would hear whether the food was cooking at too high a temperature, or even how well I seasoned the dish. I hoped the sounds of my cooking would trigger sensations of delight!
Taste, Aroma, Texture
Only I could smell and taste the food and feel the different textures in my mouth. I worked hard on learning about flavor profiles and expanding my vocabulary to adequately explain my sensory analysis. We had an honor system about reporting what we experienced; it wouldn't be of any benefit to lie about my food. I wanted to learn and grow, so I was always honest about what didn't taste right. My teachers would offer valuable feedback and instruct me on how to make the dishes taste better.
Capstone Project
My early experience learning to make traditional Cameroonian dishes gave me a basic understanding of how cooking works and inspired my passion for preparing culturally inspired cuisine. The capstone project in the culinary program was a fantastic opportunity to put that passion into practice by creating food fusions from two cultures. Given the choice of Peruvian – Chinese, English – (East) Indian, or Vietnamese – French cuisine, I chose the combination of India and Britain.
To plan the menu, I researched the history between the countries. Britain colonized India, so Indian food has been influenced by British culture. Beginning in the 19th century, Indian natives began immigrating into the UK and establishing restaurants in London. The spicy, flavorful dishes – both vegetarian and non-vegetarian — have become extremely popular in the UK.
I prepared a kachumber (Indian cucumber) salad, made from diced tomatoes, diced cucumbers, and diced onions, seasoned with oil, salt, pepper, lemon, and cumin. It is very fresh and remarkably simple. I added arugula and a British salad dressing. The dressing has a water base instead of a vinegar base, and includes English mustard – sharp, like American mustard. I puréed a mixture of boiled egg yolk, a little bit of red wine vinegar, garlic powder, onion powder, sugar, and salt. The result is unlike anything like you would think of as being a salad dressing because of the pungent smokiness of the mustard!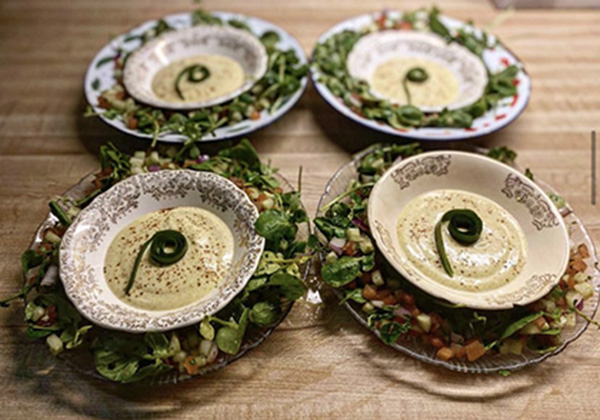 For the appetizer. I made a Scotch egg (which is of British, not Scottish origin) with puréed rutabaga (a root vegetable that is hybrid between a cabbage and turnip). The Scotch egg consists of sausage meat wrapped around a hard-boiled egg dipped in light, crisp panko-like breadcrumbs, and then deep fried.
I added onions and garlic and let that sweat. I added the rutabaga. and cooked the mixture on low. I mixed that together with brie and basil. Without adding sugar, the heat brought out the sweetness – the rutabaga tasted almost like a sweet potato.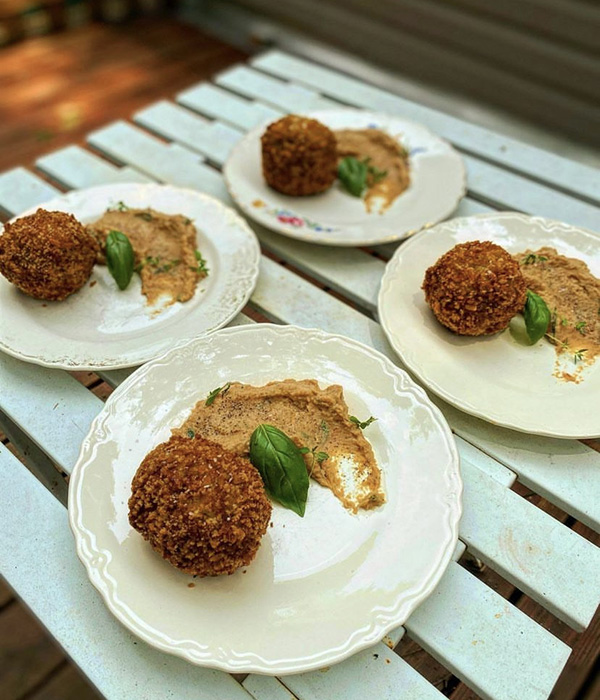 For the entrée, I made an Indian-curried dish called Palak Paneer, and a Tandoori-style chicken. I made my own cheese for the curried dish. I cut up and marinated a whole chicken overnight in coconut milk and spices, including curry, cumin, paprika, garam masala (an Indian spice blend), and then grilled it.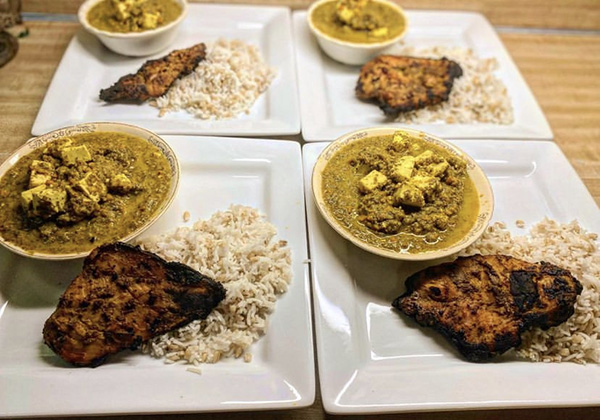 I loved making the fusions. Cooking international cuisine during the program deepened my desire to experience food in other cultures. After graduation, I went to Puerto Rico for a short vacation, where I tried to find as many unique restaurants as I could. I traveled to a small town called Catania, where I took a ferry out to an outdoor cafeteria, right next to a fish market. My meal included a full fried fish—wow!
I plan to visit Thailand this fall to take short classes and learn more about the Thai culture in different regions. I'll travel up north, then down south, and finally to the main city, Bangkok, in the central part of the country. In the future, if I like the short classes, I'll return to take extended 3-week long courses.
Promotion to Assistant Manager at Chipotle
All those months of planning and preparing multiple dishes for the classes taught me how to manage multiple tasks and assignments. I'm able to work about four times as fast as anyone on my team in the restaurant. Shortly after graduating from the program, I was promoted to Assistant Manager at the Gastonia Chipotle, where I've been working.
To meet customer's expectations each day at Chipotle, I make sure we are fully prepped with all the foods and condiments customers want. By making a schedule of every task that needs to be done, my crew has become more efficient. We are even completing the closing operations at the end of the day much earlier than we did in the past.
I'm able to help improve the quality of food we prepare by teaching my grill and prep people different cooking techniques I've learned in school. For example, my grill guys were having problems cooking chicken — they would either overcook or undercook the chicken so the pieces would stick to the grill. I've shared with the grill guys different ways to tell when the chicken is done.
There's a sweet spot when the chicken just pops off the grill. First, I use a timer. I watch the chicken until the edges have turned white. I'll pick up the chicken piece that has the least amount of heat on it, and if it's lifting off easily, I know all the other pieces are ready to flip. When both sides are fully cooked, the chicken won't stick to the grill. It's basic, but it makes a big difference to the quality of the food.
Dreams and Ambitions
For the almost three years I've been their employee, Chipotle has been very good to me. I'm incredibly grateful to Chipotle and Guild Education for making it possible for me to go to school and receive a quality education in JWU's professional culinary degree program. Without their financial support, I wouldn't be where I am today — in my position at work, having earned a culinary degree, and feeling so much happier about my direction in life.
I have dreams, and the ambition to accomplish those dreams. Cooking is my calling in life. Food is an incredible tool for connecting with other people and bringing people together. Someday, I'd like to create a business through which I can give back to the community through food. Right now, I'm just happy I can create food that brings people joy.