Two JWU Grads, One MBA Journey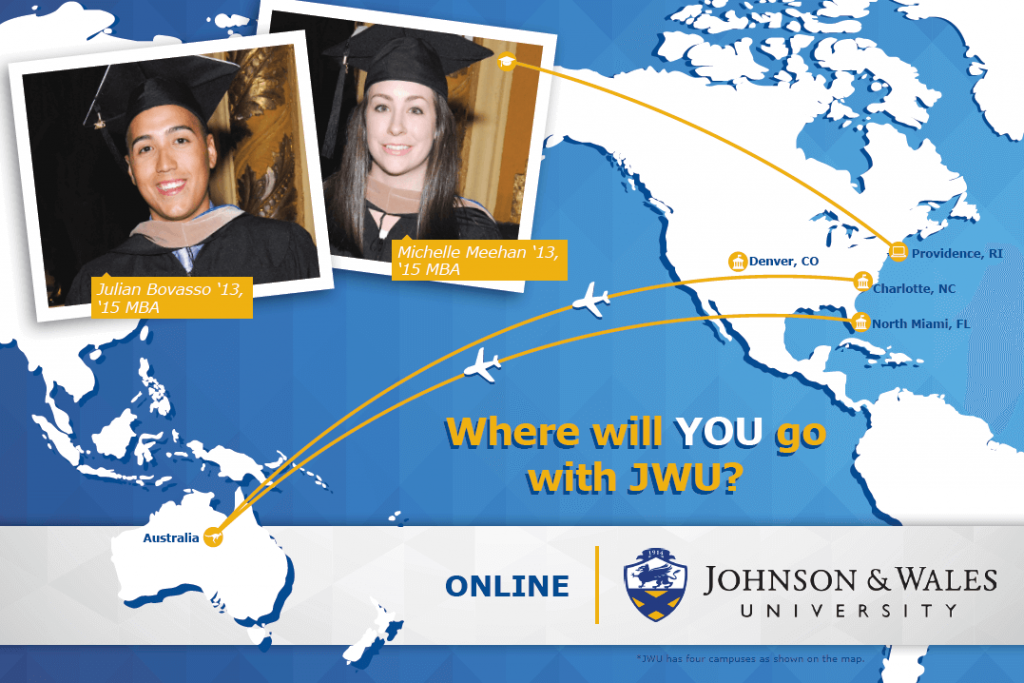 Michelle Meehan '13, '15 MBA and Julian Bovasso '13, '15 MBA were on successful career tracks, she at Hilton, he at the Miami Heat. But the two friends wanted to pursue advanced degrees and work full-time. Read their MBA journey and solution below. Michelle and Julian also share the details of their journeys on Career Catalyst.
UNDERGRAD FOUNDATION
In September 2009, Michelle and Julian began their JWU journeys, she at the Charlotte Campus, he at the North Miami Campus.
MEETING ABROAD
On a study abroad trip to Australia during their senior year, the two met and became fast friends.
ONLINE ADVANCEMENT
The pair stayed connected after graduation. Julian encouraged Michelle to enroll in the JWU College of Professional Studies (formerly the College of Online Education) in Fall 2013, which allowed them to pursue their careers and an MBA.
MBA GRADUATION (AND REUNION)
Michelle and Julian reunited in Providence, R.I., 18 months after beginning their MBAs online, graduating with honors and their master's degrees.
IN THEIR OWN WORDS
As graduates of traditional and online JWU programs, Michelle and Julian offer unique perspectives on how the university has advanced their education and shaped their careers.
Michelle Meehan shares her JWU experience and her hospitality success.
Julian Bovasso explains his JWU journey and how it's shaped his career in the sports, enterainment, and events field.